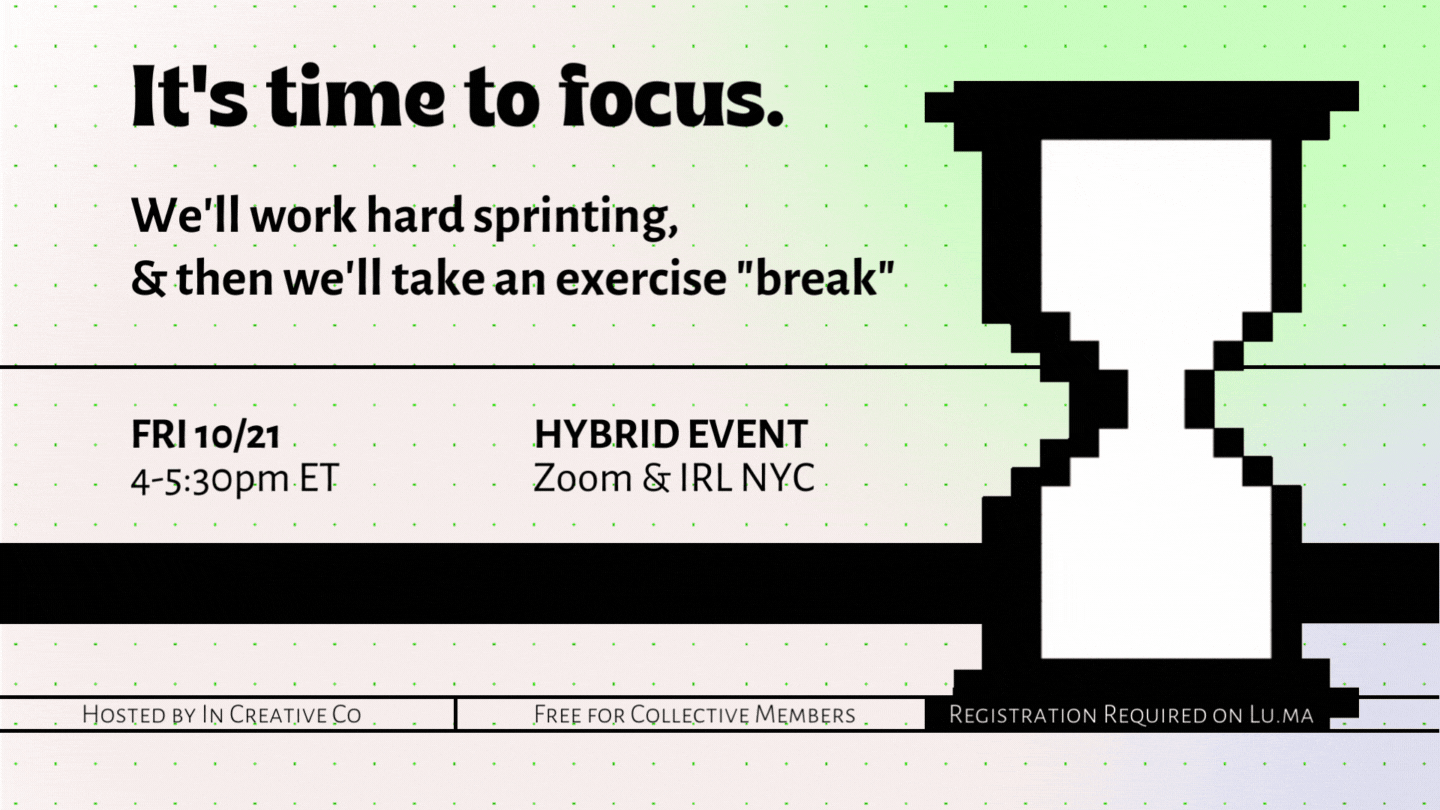 Co-working Sprints {NYC & Virtual}
Hosted by In Creative Co Events & 3 others
Past Event
This event ended 342 days ago.
The price of this event is $15.00. To join the event, please get your ticket below.
​Even as a freelancer or solopreneur, you don't have to work alone as a member of In Creative Company. This month, you can join our Co-working Sprints as a virtual attendee or IRL in NYC. Our hybrid event is great for our global collective to meet and get some serious work done.
​As an attendee of 'Co-working Sprints,' you should feel like you've had a productive 90-minutes and are now inspired to work more effectively on your own.
​⏱️ Run of Show
​In Creative Co-founder Yelle starts each session by facilitating a goal-setting exercise. Then we work hard for a 30-minute sprint, come together for a quick inspirational exercise 'break' to recalibrate, sprint again, then reflect and get feedback on the work we've completed. Together, we can mix accountability with productivity to get the job done.
​Gather & set goals (10-min)

​Work sprint (30-min)

​Reset exercise (10-min)

​Work sprint (30-min)

​Review & goodbyes (10-min)
​Attendees must be on-time. In order to stay focused, we will not allow you to join after the goal setting.
​🗽 IRL in NYC
​Gather around and sip tea together at Yelle's home in Brooklyn, NYC. Our resident photographer Audrey will be capturing your Co-working zone so you walk away with some marketing content like this. Feel free to stay after the work sprints to make a day out of it.
​🖥️ Virtual on Zoom
​While a few of us are together in person, our host will also be on Zoom. The event should feel seamless.
​Please contact the In Creative Co-founders Yelle and Drea directly with any questions, Connect@InCreative.Co